Procedures: Premium Lens Implants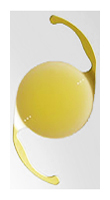 Lens Implants
AcrySof Toric Lens Implant
The AcrySof Toric lens is designed to reduce corneal astigmatism and improve uncorrected functional distance vision. The AcrySof Toric lens offers these advantages over traditional lens implants:
Correction of corneal astigmatism
Enhanced clarity and quality of uncorrected distance vision.
Filtered blue light protection
Rich, vibrant color perception
The AcrySof Toric lens is ideal for patients who wish to be corrected for distance vision and are comfortable wearing glasses. Because this lens does not offer the ability to accommodate or adjust one's vision to varying distances, glasses would be required for near and intermediate tasks for people who have this implant.
The AcrySof Toric lens implant is also an excellent choice for those who drive a lot at night, as it delivers great clarity with minimal reports of glare or haloes under both bright and dim lighting conditions.
Corneal Astigmatism: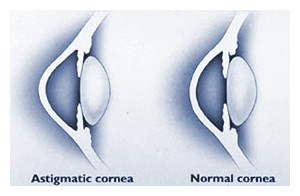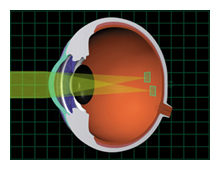 Whether myopic or hyperopic, most eyes have corneal astigmatism to some degree. Corneal astigmatism means that the front part of your eye, the clear window you look through, is not perfectly round. Instead of being spherical like a basketball, an astigmatic cornea is slightly flattened, more oval in shape like a football, with one side steeper than the other (as illustrated above).
Because the astigmatic cornea is curved more (steeper) in one direction than the other, light entering the eye is refracted differently as it passes through these different areas. This causes light to come into focus at several different points on the back of the eye, rather than ideally coming into focus at just one point (note the illustration, right).
Depending on the direction and the amount of astigmatism, vision through an astigmatic cornea will be affected in various ways. The illustration (below) gives a broad example of the visual effects, depending on the overall direction of the curve:

Advantages of the AcrySof Toric Lens Implant
The AcrySof Toric intraocular lens is designed to correct for nearsightedness or farsightedness and
corneal astigmatism of the human eye.
The AcrySof Toric intraocular lens is designed to have the lens capsule "shrink wrap" around it.
This helps the lens stay stable and centered within the eye.
The patented yellow color of the AcrySof Toric intraocular lens implant is biocompatible and bonded
to the structure of the acrylic material.
The yellow color of the AcrySof Toric intraocular lens implant, approximates the natural discoloration
(i.e., natural yellowing) of a healthy adult crystalline lens, without a negative impact on color perception.
The AcrySof Toric intraocular lens implant is compatible with secondary cataract treatment
(i.e., Nd:YAG laser treatment), if required.
The AcrySof Toric lens is available in a wide range of optical powers that effectively correct eye that are nearsighted and farsighted. As each patient is unique, both in physiology and in viewing distance preferences, the correct power intraocular lens for your cataract surgery will be selected using biometry equipment. An in-depth discussion of your needs and options will take place with Dr Findlan at the Pittsburgh Eye Institute. Make your appointment today with the Pittsburgh Eye Institute, to see if the AcrySof Toric lens for the correction of astigmatism is right for you. If you would like further information, please call our office at: 412 – 466-6800